Rwanda: The Country of a Thousand Hills
In April 1994, as the world's media was focusing its attention on the election of Nelson Mandela, and the end of South Africa's apartheid, something terrible was happening in Rwanda. This tiny East African country, with a population of approximately 12 million as of 2016, was the centre of the world's most barbaric, bloodiest and cruelest massacre that left over 1 million minority Tutsi and moderate Hutus dead.
The violence was sparked by a plane carrying Rwanda's president, Juvénal Habyarimana, and Burundi President, Cyprien Ntaryamira, being shot down in Kigali, killing both presidents. The mass slaughter left a trail of destruction bringing Rwanda to its knees as many innocent souls lost their lives. After the genocide, Rwanda's fragile economy was completely destroyed, impoverishing the entire population.
However, Rwanda has risen from the ashes, and its remarkable story of recovery and hope has inspired the entire globe. More than two decades later, Rwanda is not only a success story on the African continent, but a perfect example for other war-ravaged countries globally to borrow a leaf from. The country has made substantial progress in developing its economy and strengthening the social fabric.
Curious for a firsthand glimpse at how Rwanda has managed to rebuild itself after a dark and horrendous past, I decided to visit Rwanda to explore and have my own personal experience. As I boarded my flight from Nairobi headed to Kigali, Rwanda, I was excited to see this fast-developing country that is a beacon of hope, and whose economy now surpasses many African nations.
After about one-and-a-half hours, we were already in Rwanda's airspace, and looking down through my window, I was fascinated by the beautiful green topography dominated by numerous hills. Did you know Rwanda is also known as "The Land of a Thousand Hills?"
Day 1- Arrival at Kigali International Airport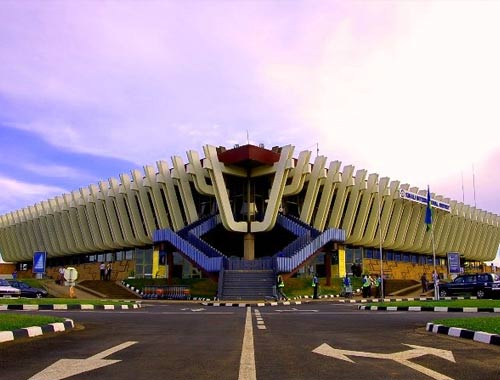 Finally, we landed at Kigali International Airport, sometimes referred to as Kanombe International Airport. It's mid December, and with temperatures almost at 30 degrees, it's hot and sunny. One thing I particularly liked about Rwanda is that it's a safe country that you can explore confidently. Interestingly, foreign agencies have few things to say about Rwanda's security, as it's described as generally safe with relatively low crime rates.
Kigali Airport is located only 10 km east of the city. Aside from air travel, you can travel to Rwanda via road. Kigali is accessible by road from other regional cities such as Kampala and Nairobi, with several buses plying the route daily. Kigali Airport is busy and receives regular flights from various regional and global destinations such as Entebbe, Nairobi, Addis Ababa, Dar es Salaam, Juba, Johannesburg, Lagos, Dubai, Doha, London, Amsterdam, and Istanbul, among others. Currently, the airport is undergoing expansion to better its facilities and boost passenger numbers.
"Hello and welcome to Rwanda. Open your bags, please," one of Rwanda's officials asked politely. I wasn't perplexed because this is common procedure at airports, as officials search for contraband, i.e. drugs and banned items. But, Rwandan officials were looking for something else unusual – plastic bags!
Everybody, including myself who had plastic bags in their luggage, was forced to remove them and hand them over to the authorities. At Kigali International Airport, there is a sign that warns travelers that their plastic bags will be confiscated. In 2016, Rwanda was the first country in the world to ban plastic bags, and this directive has since remained in force. Although it was a bit inconveniencing, it was definitely worth it as Rwanda is famous for its high standards of cleanliness.
Going through immigration was a fairly straightforward process as there isn't too much paperwork, and staff were extremely friendly and helpful. According to Sleeping in Airports, a Canadian Aviation website, Kigali International Airport is ranked 2nd best in Africa after Cape Town International Airport.
The airport is busy but well-organized; the terminals are modern, spotlessly clean, and easy to navigate. The ongoing expansion and remodeling is expected to give it a major facelift. There are coffee shops, free Wi-Fi, and numerous other amenities in the airport. To be honest, I was quite impressed with the entire immigration process.
Getting into Kigali
On my way out of the airport, I was delighted to meet Mark, my tour guide, who had patiently waited for me at the airport. Being a local, I knew I was in the right hands as he had been referred to me by a friend who regularly visits Kigali. With my luggage in the trunk, we left in a taxi to a hotel in the city centre, which was to be my home for the next 4 days I was to be in Rwanda.
The moment we left the airport, I began to see how beautiful Kigali was. The beautiful green vegetation and clean streets were a marvel. The city also has plenty of trees that allow passers-by to enjoy shading, as well as help to keep the air cool and fresh. If you can't afford a taxi, there are other numerous transport options to choose from. The city is populated with small buses, as well as large buses with higher seating capacity. It's worth mentioning that the standard fare to any part of Kigali is 200 Rwandan Francs.
Traffic was moving smoothly despite the approaching rush hour. Unlike some cities in Africa that experience huge traffic snarl-ups and motorists disobeying traffic rules, there is a lot of discipline on the roads here as Rwandans respect the law. My tour guide explained traffic offenses are punished severely, and this has helped to maintain sanity on the road.
On our way to the hotel, I noticed there are so many motorbikes in Kigali, and the good thing is, they can quickly and safely get you to any part of the city. Remember, the law requires both the rider and passenger to wear a vest and protective helmets. I also spotted a couple of bicycle-taxis on the road as locals find them a cheap alternative to taxis, buses, and motorbikes. Unlike buses, you can negotiate fare if you plan to travel with a motorbike or bicycle-taxi.
Arrival at the Hotel
I arrived at the hotel at around 5 p.m. and was welcomed in the modern lobby with friendly and helpful staff. My hotel was a 3 star hotel, but very popular and reputable in Kigali. Before travelling, I checked it out on TripAdvisor and was impressed with the reviews. With 100 dollars per night for a single room with bed and breakfast inclusive, it wasn't a bad deal since my 3 days in Rwanda were going to be packed with exciting things to do. After checking in, it was time to part ways with Mark, who was to show me around Kigali and a few other places in Kigali. We agreed to link up the next day in the morning.
Every element of the hotel was cozy and sophisticated. Even though it was in the middle of the city, the atmosphere was calm and peaceful. The best part of it all was my room was on the third floor and was large and spacious coupled with modern amenities. My room had floor-to-ceiling windows and a balcony, allowing me to have magnificent views of the city. In addition, there was free internet, flat-screen TV with satellite channels, room telephone, marble bathrooms, and a study table.
Other facilities at the hotel included a fully equipped gym, beautiful spa, restaurant and bar, and a large outdoor pool. For dinner, I got the chance to dine at one of their restaurants that served good food, which was comprised of both Rwandan delicacies and international cuisine. I must admit, Kigali has a wide choice of accommodation facilities, and it all depends on your budget. Whether you're a leisure or business traveller, you can choose from 5-star to a wide array of guest houses and lodges.
Day 2- Kigali City Tour
After a restful night, it was daybreak; time to officially start my Kigali city tour. After a quick sumptuous breakfast, I met with Mark, who was to take me on an extensive tour of Kigali City and its attractions. As we began driving around Kigali, I began to discover a clean, well-organized and developed city.
Despite having gone through political turmoil over two decades ago, I was so impressed to see a well-developed infrastructure and modern buildings around the city. Transport is available in Kigali 24 hours a day. The transport industry is mostly dominated by youths who depend on the industry to earn an income.
With a population of over 1 million, Kigali has been built over several hills and valleys with a view that is exhilarating. The city is developing rapidly, with characteristics of a burgeoning metropolis with modern international standards. Kigali is very popular with foreigners and expatriates, as it hosts a number of diplomatic missions and international NGO's.
Kigali Genocide Memorial
My tour began with visiting a popular historical site that defines Rwanda's past – Kigali Genocide Memorial Museum. This is an important stop for anyone coming to Rwanda, as it shows how this country has been to hell and back, memorializing 250,000 victims of Rwanda's 100-day massacre that killed over 800,000 people who are buried here. As I entered the museum, a strong sense of sadness engulfed me. It was easy to paint a picture of the magnitude of human suffering. What happened in Rwanda could only come second to the world's deadliest massacre – the Holocaust. Men were slashed by machetes, women raped and tortured to death, and children clubbed to death.
I was eager to learn more and reconcile how Rwanda has managed to pull through this dark past, a recent historical event that happened when I was in kindergarten. Open to the public a decade after the genocide, the memorial has photos, giant wall displays, archival documents, video footage, and weapons that were used at the time were encased in glass. The indoor exhibit is filled with thousands of human skulls and a children's memorial section with photos of innocent little souls who were cruelly butchered.
On the outer section is beautiful garden, perfect for those who needed to reflect and have a moment of silence after what they'd just seen. There are large tombs holding the mass graves for 250,000 victims covered by giant concrete blocks. You can pay your respects here by buying a rose as a donation to the memorial and lay it on the grave. Those who lost their loved ones often come here to mourn and remember.
Further ahead, I saw a giant marble wall with the names of all of the perished in the massacre. It was heartbreaking, but a reminder that no other catastrophe of this magnitude should ever be allowed to happen again. My trip here taught me that we shouldn't ever take the peace we enjoy for granted.
Entry to the museum is free, but it's good to leave a small donation at the gate to help manage the memorial and help survivors of the genocide. Please note, you're not allowed to take photographs inside, but you can do so outside. There's also a restaurant at the site where you can coffee or eat lunch, with proceeds going towards maintaining the site.
Presidential Palace Museum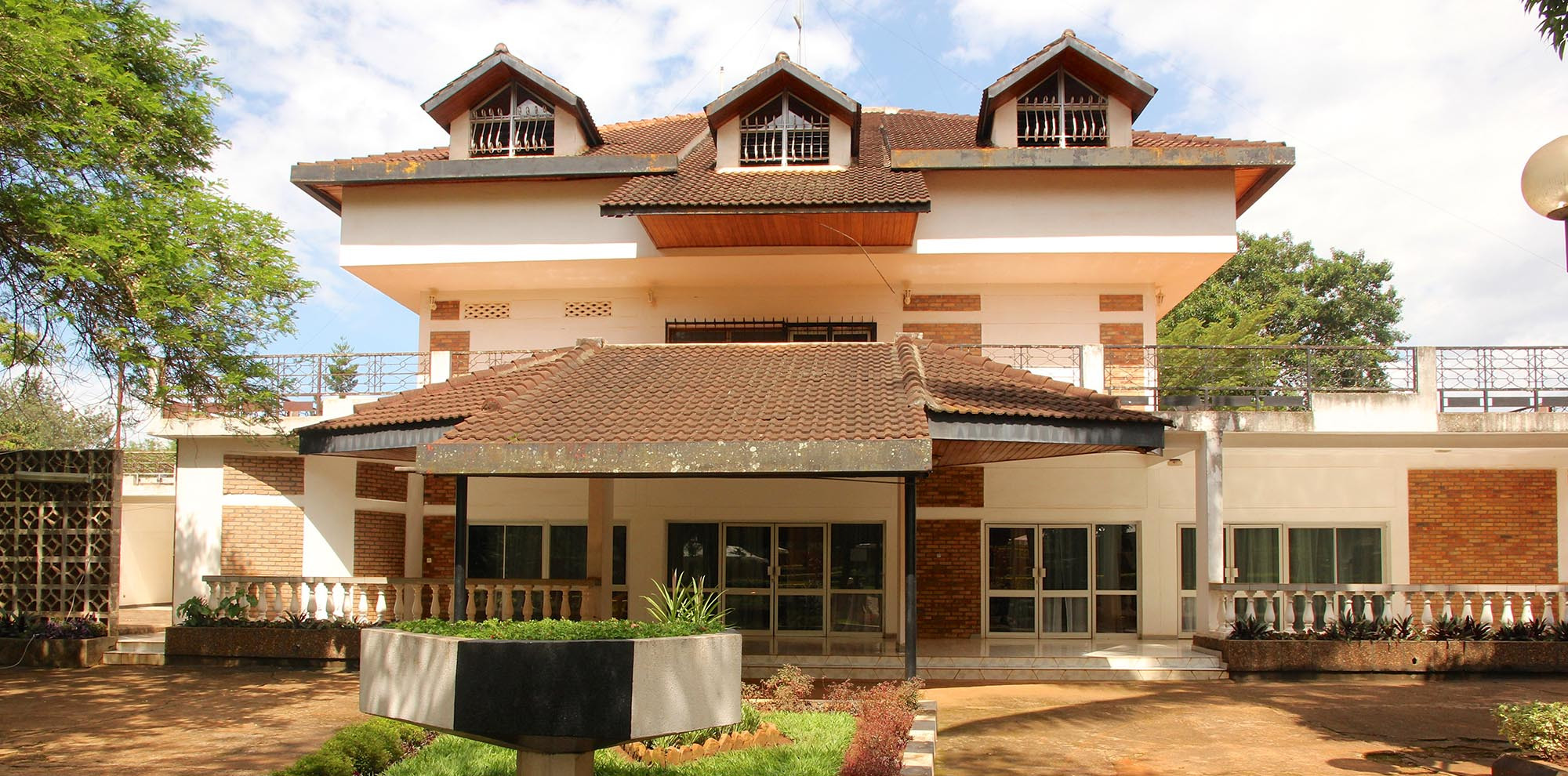 After completing my tour at the memorial, my next stop was the Presidential Palace Museum located in Kanombe, about 5 km east of Kigali City Centre. The palace is home to former Rwandan President, Juvenal Habyarimana, who was assassinated in a plane crash in 1994 triggering the deadly genocide. As we entered the museum, I was told visitors come to the palace to see how the president lived. In addition, in the rear of the vast compound lies the debris of Falcon 60, the presidential jet that was brought down and landed in the president's own backyard. The palace was built in 1976, but Juvenal lived in the palace designed by a French architect from 1980.
The palace was strange, as it had sensors that alerted the president when someone was walking in the house – he was paranoid and fearful. The former president practiced both Christianity and traditionalism, as there's a room that was specifically used for witchcraft activities and animal sacrifice. The exterior has beautiful and well-kept lawns, a tennis court, pool, and outside pets. There's also a concrete pond that once housed a 300-pound python that the president believed protected him from evil spirits. The pond was destroyed during the crash and the python mysteriously disappeared never to be seen again.
Dining
After a day full of activities, it was time to head back to the city centre for an evening walk. Mark decided to take me on a tour of Nyamirambo and a few other areas of the city. Nyamirambo is particularly lively with plenty of bars and restaurants. After the walking tour, we decided to sit down and sample Rwanda's delicacies. Rwanda is well-known for its fantastic local coffee, so it's best to try out a cup of coffee. I decided to sample "Nyama Choma," or roasted meat, with Ugali, which is a favorite in Kenya, but also very popular in Rwanda. Popular dishes in Rwanda include Matoke (Steamed fish), cassava, sweet potatoes, ibihaza, and groundnut paste, kanyinga, among others.
A visit to the market
A stop at Nyabugogo Market made me realize just how clean and organized Rwanda is. The market is centrally located in the city, is clean and organized with different merchandize being sold at affordable prices. You can find anything here – fruits, meat, vegetables, cereals, home products, and textiles, among others. It's the perfect place to shop if you need fresh produce, and the best thing is you have a wide variety to choose from. Since I am used to walking in local markets, it was easy for me to move around and see.
Day 3 – Trip to Volcanoes National Park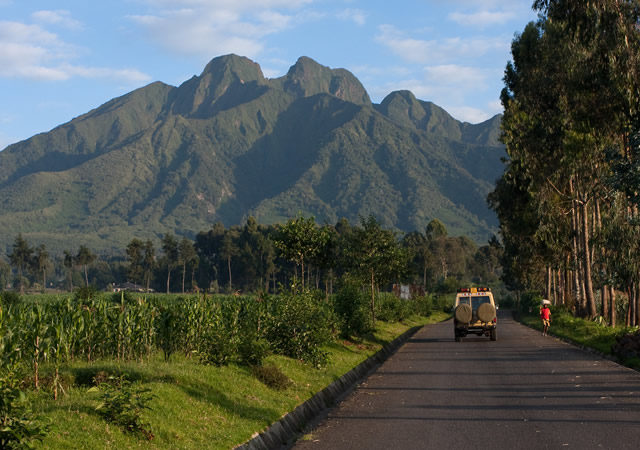 On the third, and final, day in Rwanda, it was time to head out of Kigali to embark on the much-awaited gorilla expedition. Rwanda is amongst three countries in the world where you can see mountain gorillas. For me, this was definitely an exciting trip I have waited for all my life. Together, with my tour guide Mark, we joined another group of travellers and shared the same 4×4 for the group tour.
Our two-hour journey from Kigali began at 5 a.m. I was told you need to arrive very early to have ample time to explore. Aside from Rwanda's Volcanoes National Park, gorillas also inhabit Virunga National Park in the Democratic Republic of Congo and Uganda's Mgahinga National Park. Aside from mountain gorillas, the park has golden monkeys, elephants, buffaloes, spotted hyenas, and over 178 bird species. This national park has a total of five volcanoes.
The drive was scenic with lush green hills and locals busy cultivating their lands. Volcanoes National Park is located in Musanze, a small village that is the starting point for gorilla trekking. The good thing is that if you arrive early, you can do your trek and travel back to Kigali the same day.
When we arrived at the park entrance, the scenery was stunning. After being briefed and placed in groups, the trek began, being led by experienced guides who've done this for years. There are various other activities you can do such as hiking Karisimbi Volcano, visiting Twin Lakes of Burera and Ruhondo, and a one-day Mount Bisoke Volcano hike.
Visitors need to pay for a permit to trek, which costs $1,500 to watch gorillas. The aim is to promote high-end tourism in Rwanda. It is good to book your permit in advance from Rwanda's Tourism and Conservation Office, as the demand is usually high.
The scenery was breathtaking, but the climb began to become challenging as we went deeper in search of gorillas. The trek is challenging, as you have to pass through thick bushes with numerous insects. Luckily, our trek took only about an hour, and we started spotting gorillas feeding and running through the bushes.
It was interesting to see baby gorillas running alongside their parents. We were warned not to move too close to them for safety purposes. Our guide said we were extremely lucky as some groups trek over seven hours before spotting any gorillas. Aside from gorillas, you can also see Rwanda's golden monkeys at a lesser price of approximately 100 dollars for a permit.
However, bear in mind that you cannot do both the gorilla trek and view golden monkey's on the same day. It's a shorter walk to the golden monkeys than the mountain gorillas since the gorillas are found at the higher altitude. Unlike the gorillas, which move slowly and rest as a group in one place, the monkeys keep tourists on their toes. They are fast so you have to be fast to see them.
After the long and tiring trek, it was time to head back to Kigali. We arrived late in the evening and I was extremely fatigued from ascending the steep hills in the national park. However, this was an unforgettable experience that anyone would want to be part of. The permits are expensive, so you need to plan your finances in advance and secure bookings in good time.
Departure
Sadly, my three-day tour had come to an end and it was time to have dinner and get to bed as my flight was the next day at 11 a.m. in the morning. Overall, Rwanda is a great country and a must visit. I was on a tight schedule, and therefore, couldn't manage to visit all of Rwanda's attractions, as there are many.
The next day, I woke up early, took breakfast, checked out of the hotel, and headed to the airport at 10 a.m. My experience in Rwanda was great and I was touched by the warm hospitality of the people and everyone I met. Mark was of great help to me throughout my entire tour, as he organized my tours and ensured I got to see as much of Rwanda as I could. At the departure lounge, it was time to say goodbye to him and embark on my flight back home. It was fun and I look forward to visiting again.
Final Thoughts
I was impressed by the remarkable standards of cleanliness, which have been achieved through consistent community cleanliness efforts. On the last Saturday of every month, Rwandans come together for "Umuganda," a national community service day, where communities come together to clean their neighborhoods and towns.
The main aim of these initiatives is to ensure the country remains clean and organized and help enforce community togetherness as part of the Rwanda's post-genocide healing process. Rwanda's growth is phenomenal and the future is bright due to the fact that the government is working on a strategy to make Rwanda's economy achieve middle income status by 2020.
Source: Nelly Gachanja
What's Your Reaction?